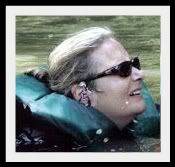 From the exec's desk
Dear RiverLovers,
In holidays past, all you could smell as you passed the old ice house on Riverside Drive was bread. The huge freezers inside the building housed the bread for supermarkets far and wide for holiday celebrations.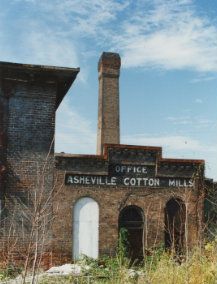 The twin chimneys -- one at the Ice House and the other at the Cotton Mill -- reminded you that you were in an industrial zone. The water tower at the Cotton Mill dominated the sky above the river and that landmark was how we told folks to find us: "Just follow the water tower down to the river."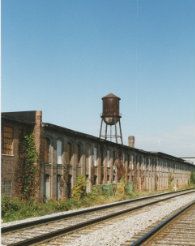 Water Tower at Cotton Mill which we had to take down after the April 2, 1995 Arson
The Ice House has been owned by members of the same family -- the Millers, Mallets and Lees -- since the late 1800s but as of Friday, Nov. 30, 2012 it is owned by the City of Asheville. "You can't step in the same river twice" is an old quote and very apt today as the riverfront area transforms itself again into another era of hustling commerce and activity. Wow - what a way to start a new year!
On Thursday, Dec. 6, starting at 4 p.m. at the Wesley Grant Center (map) you can come hear the final presentation for the $600,000 federal highway
administration road study for the Wilma Dykeman RiverWay. In 2004 RiverLink presented the Wilma Dykeman RiverWay Plan and received unanimous approval and adoption of the plan from the City of Asheville, Buncombe County and over 40 civic agencies. The popularity of the plan led the Federal Highway folks to provide this funding to study and then recommend improvements like road widening, parking, historic structures, alignments, open space and archeological sites. I served on the steering committee for the study and I have been so excited to see so many folks come to meetings, write recommendations and study maps! I am urging everyone to come here and see the results of all this hard work.
November is one of the months with an "R" so a perfect time for an oyster roast. Please join us and our partners at the Downtown Marshall Association for an oyster roast and boil, dancing, music and art for a fun filled Saturday, Dec. 8. Our host is Rob Pulleyn who bought the old Marshall high school building on Blannahasset Island (map) and turned it into Marshall High Studios, an artist's enclave, so come discover art and great food in Marshall.
We are teaming up with another non-profit to develop an online interactive water quality game designed specifically for the French Broad River watershed which we will launch this winter. Take our brief survey and find out your water quality score. This is another way we are seeking to reach children of all ages and - surprise surprise - reward them for their knowledge. Watch this space for more details as we move forward.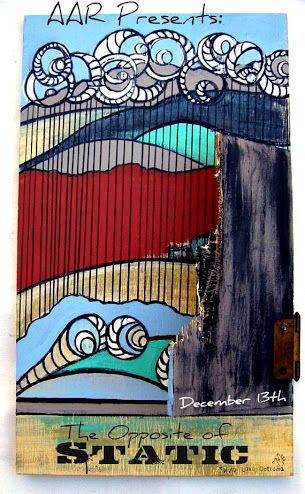 On Dec. 13, Asheville Adventure Rentals at 704 Riverside Drive (map) will host an art show by local artist Maryanne Pappano, who has created a series of installations reflecting our work to improve the French Broad River. I hope you will join us for an exciting night of art on the river. Read below for details.
January 26th we kick off our new cleanup program to supplement our Adopt- a Stream teams and hope you will join the fun. By January trees will have lost all their leaves and the litter is just more visible in the winter months. We will have food and beer and make your own t-shirts at the after party. Call Dave at 252-8474, ext. 11 for more details.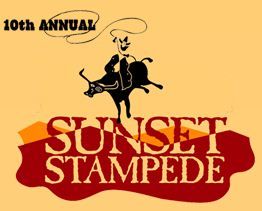 Many thanks to the Asheville Track Club for donating $7,000 raised by the Thomas Wolfe 8K towards our greenway efforts on Broadway. If you missed the race and still want to contribute to greenway development sign up for the Sunset Stampede on May 25, 2013. Many thanks to all the racers who use the greenways and help support their construction through these donations.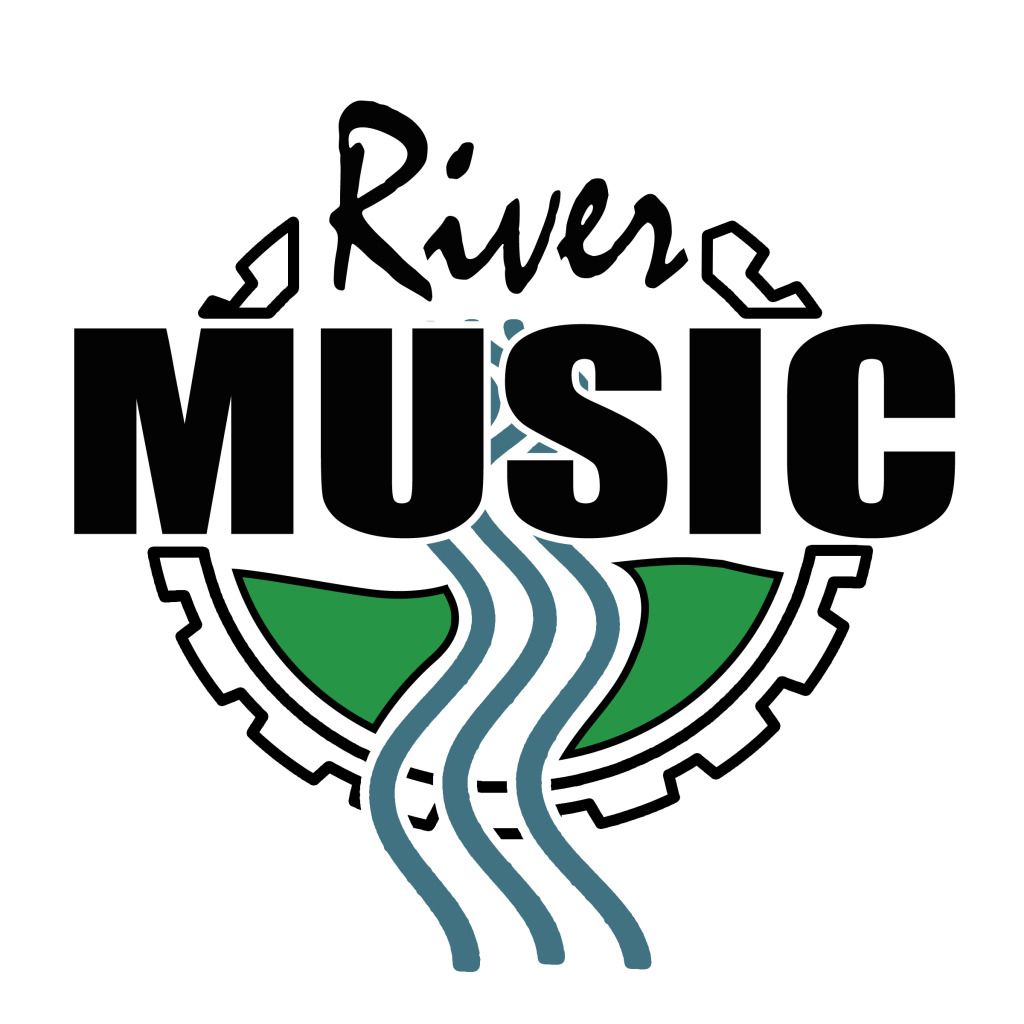 These amazingly warm days feel more like Summer than Fall, and we already have our eyes on our Summer calendar, when our RiverMUSIC concerts kick up again. This year will be bigger and better than the last, and there is still time to get in on the sponsorship opportunities and introduce thousands of your neighbors to your business or product. Click here to view our sponsorship packet.
Don't forget to fill out your Paddle Trail map request -- click here -- if you want your business to be listed on our new interactive French Broad River watershed map. This is an opportunity to reach hundreds of thousands of potential users with information about what you and your company can offer to overnight campers throughout the French Broad River watershed.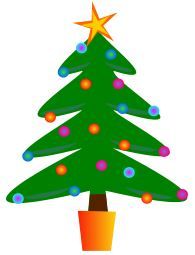 As we approach the holiday season all of us on the RiverLink Team wish you the very merriest of Christmases and the happiest of New Years. With all the progress along the river and all the new focus on the French Broad, 2013 promises to be an exciting year to be on the river! Thanks so much for all you do.
Holiday Cheer,
Karen
P.S. Now is a great time to think about an end-of-the-year donation or a gift of a RiverLink membership to friends and colleagues that is guaranteed to fit and be the perfect color and be tax deductible that will help make the river the preferred destination for everyone to work, live and play now and into the future. A gift of forever is powerful!
Last meeting for River Arts District Transportation Project scheduled for this coming Thursday

On Thursday, Dec. 6, from 4 p.m. - 7 p.m. at the Dr. Wesley Grant Sr. Southside Center (285 Livingston Street, corner of Livingston and Depot Streets) there will be a drop-in style public meeting hosted by the City of Asheville to offer information and accept public input about the River Arts District Transportation Project (RADTIP). This project encompasses 2.2 miles of the Wilma Dykeman RiverWay Plan, the 17-mile system of greenways connecting Asheville's cultural and natural attractions developed by RiverLink and adopted by the City and County.
This is the third and final meeting on this project, an open-house style community meeting. The consultant team and city staff will present the Recommend Alternative for the River Arts District transportation improvements. The proposed improvements and their impacts will be evaluated in a Categorical Exclusion (CE) Report which is expected to be complete by December 31, 2012. This meeting is a very important step to complete the 30 percent preliminary engineering design phase of the project.
The purpose of the project is to improve the existing roadway geometric deficiencies along Riverside Drive and Lyman Street in the River Arts District and to enhance the multimodal mobility and system linkages (vehicular, pedestrian, and bicycle) along Lyman Street and Riverside Drive by providing efficient and convenient access from Amboy Road to Hill Street. The improvements would enhance safety and provide additional modal options for the traveling public and visitors to the River Arts District. These connections are expected to improve regional pedestrian and bicycle mobility.
Supporting docs from the CofA website:
RAD Alignment Sections
Unable to attend the meeting? You can still give input to:
Dan Baechtold, AICP
Transportation Manager
City of Asheville
Telephone (828-259-5943) Email: dbaechtold@ashevillenc.gov
Join us in Marshall for fresh seafood
, good times
Hills to Holy Water is bringing together local bands, NC Catch seafood, local Madison Farm foods & craft brew to the Town of Marshall to help raise money for RiverLink and the Downtown Marshall Association.
The Hills to Holy Water Music Arts statewide concert series is charging arcoss North Carolina county lines to reinforce the idea of NC Local; connecting communities with NC Catch, local farms and raising money for charity.
What: The Appalachian Oyster Bash & Seafood Boil: Benefit concert for RiverLink and DMA + canned food drive for Neighbors In Need.
Where: River High Studios on Blannahassett Island- Marshall, NC [map]
When: Saturday December 8th. Time: 1pm-7pm w/a post Marshall Christmas Pageant After Party
Cost: $6adv./$8d.o.s. Bring 3 or more cans of food for a $2 discount on food and drink.
Food: Tickets for food and beer will be sold separately at the venue. $6 seafood boil bowls, beer and steamed oysters will be served at 1pm and continue while supplies last.

The celebration continues with performances from The Screamin' J's, The Good Old Boyz, The Dye Wells, Broken Lilacs and Bob Funck.
This event completes the 2012 trilogy of the Hills to Holy Water Music Arts Tour. Earlier this year they presented the event as a fish fry/benefit concert on Ocracoke Island and in Durham, NC to raise funds for the Ocracoke Youth Center/Community Park and the KidZNotes youth music initiative.
French Broad Revitalization Inspires New Gallery Show
Asheville Adventure Rentals is more than just an outfitter, it's a resource for the community where the community can come together to celebrate the French Broad River.
As part of this celebration of the river we all love, AAR will host a gallery show on December 13, 6:30p.m-8:30p.m. The show will feature the debut of a new series by local artist Maryanne Pappano. The series, "The Opposite of Static", consists of multimedia paintings done on reclaimed wood, featuring scenes of the French Broad River and the mountains of
Western
North Carolina. It was inspired by RiverLink's continued efforts to revitalize the French Broad River and to expose more residents to its recreational options.
"As an artist and someone who has a tool to communicate and share creativity on a community level, it is really important to me to find and support local business's ideas and energy," explains Pappano. "I wanted to pull from the movement, flow and energy of the rivers here in WNC. I wanted to use old, found wood -- beat up scraps -- and make them into doorways that showed the idea of opportunity, which is what RiverLink has extended to the community."
To learn more about Pappano, see her on Facebook: www.facebook.com/maryanne.pappano.
This Holiday Season give the gift of greenway
a gift of forever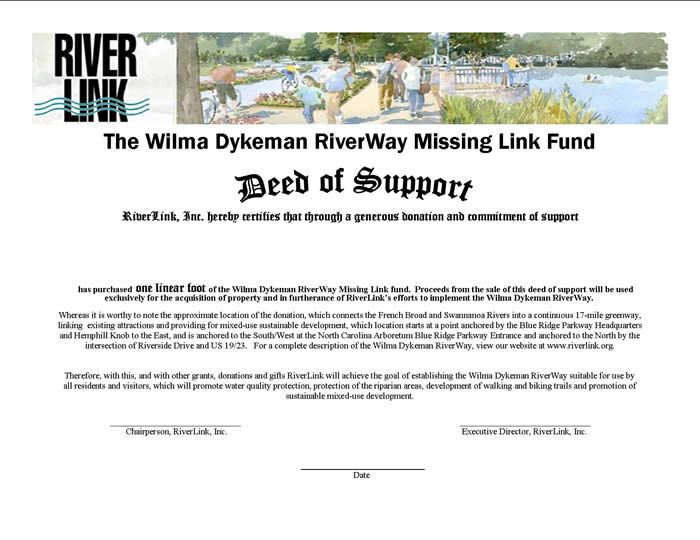 We would like to remind you that you can help support the development of local greenways and blueways through purchasing Deeds Of Support for the Wilma Dykeman Riverway, the Broadway Greenway, and Hominy Creek Greenway. RiverLink continually supports planning development and construction of greenways throughout our four-county region, through the support of our members and Deeds of Support.
Click here to go to our store.
Since 1987, RiverLink has been advocating for greenway and park development in the floodplain along the entire length of the French Broad River. Use of the floodplain for recreation, both passive and active, and as economic revitalization and environmental clean-up tool are the centerpiece of RiverLink's activities these past 25-plus years. Our primary goal is for the entire watershed to be RiverLinked!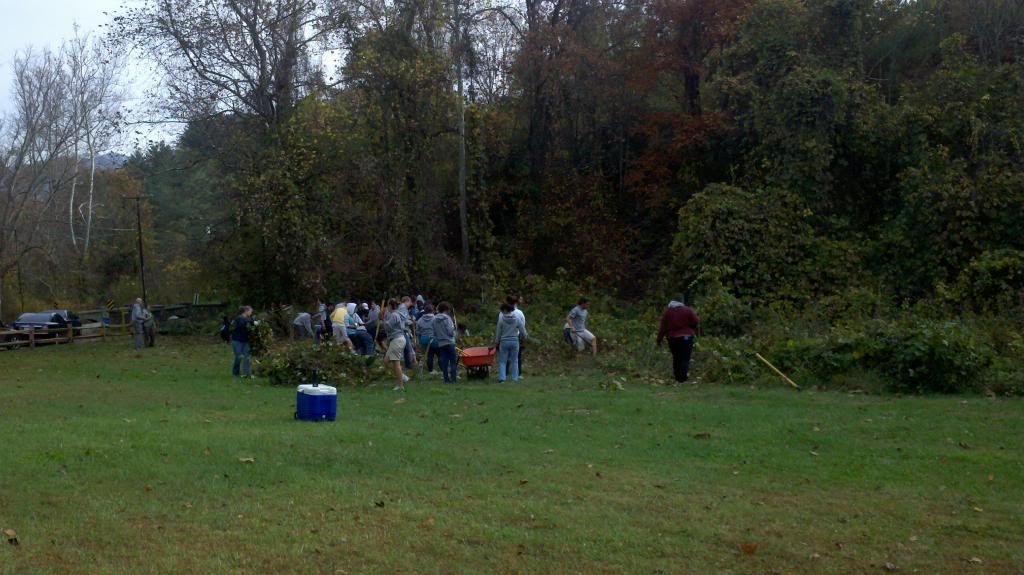 Ross Creek Water Quality Improvements
In 2011, RiverLink received a grant from the Clean Water Management Trust Fund to design and install two stormwater water quality features in the Ross Creek Watershed, at St. Luke's Episcopal Church, and a private landowner by Lake Kenilworth.
Ross Creek watershed starts north of Chunns Cove at the Beaucatcher cut on I-240, follows Tunnel Road to the Asheville Mall, down to Swannanoa River Road where the creek flows into the Swannanoa River. The watershed includes portions of the Kenilworth neighborhood and Lake Kenilworth. Ross Creek has been on the EPA 303(d) impaired stream list since 1995, for sedimentation and evidence of E.coli. These projects will help improve the water quality in Ross Creek and downstream water bodies including the Swannanoa and French Broad Rivers.
Since 1995, St. Luke's Church has been interested in protecting the portion of Ross Creek through the church property, help improve water quality in the stream, and use this as a means to educate the public, local schools, and others about the importance of protecting our local streams. The project will consist of a series of stormwater best management practices, including wetlands and rain gardens, and is part of their larger environmental stewardship project FAITH (Fellowship Actions Impacting The Habitat).
We have been working with the
volunteer
groups to remove
invasive
species in the riparian buffer of Ross Creek, starting at St. Luke's Church with the Americorp Project Power and French Broad River Academy. We have made great strides in removing Kudzu, Multiflora rose, and
Japanese
honey suckle that had taken over the stream bank. These efforts will continue through the spring as we will re-establish native species in these areas.

Please email Nancy Hodges at

WaterResources@riverlink.org

if you are interested in volunteering.
RiverLink will be hosting neighborhood informational sessions in mid January, 2013, to provide additional information about the project,specific design elements, and to obtain feedback and answer questions. Please email Nancy Hodges at WaterResources@riverlink.org if you are interested in attending the meeting or have question about the project.
Field Trips: A Mix of Service and Fun With French Broad River Academy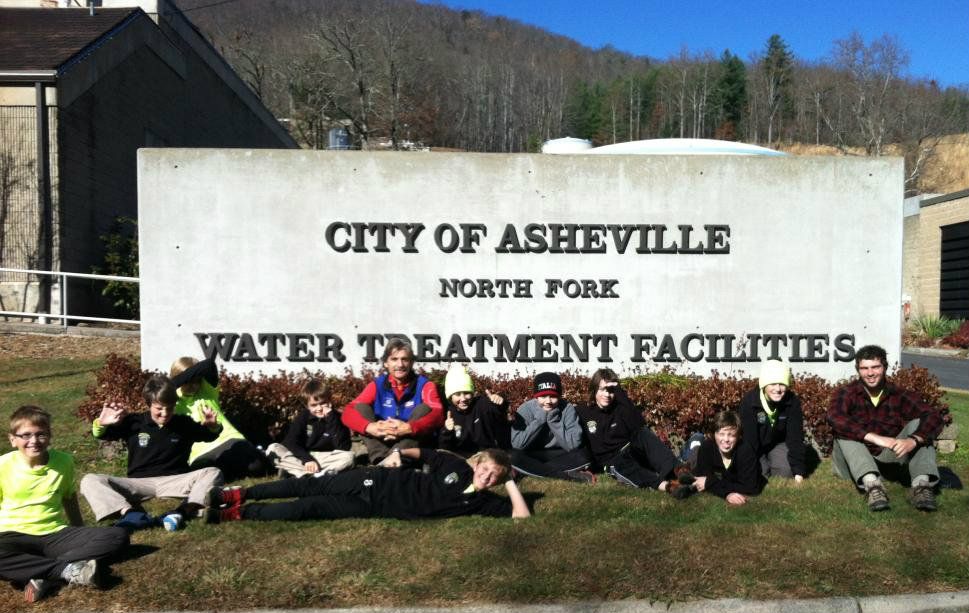 Students from the French Broad River Academy have participated in an ongoing service learning project with RiverLink focusing on water quality and invasive species.
Both sixth grade classes have spent a Wednesday field trip day touring the North Fork Water Treatment Plant with Education Coordinator, Nikki Bauman. On the other Wednesday they have been working with Watershed Resources Manager, Nancy Hodges and Volunteer Coordinator Jess Peete, to remove invasive species along the Ross Creek riparian buffer at St. Luke's Church in Chunns Cove. See Ross Creek Project Below
"People shouldn't take water for granted any more than they should take food or any other fuel for granted. In the near future clean water will become more and more a scarce and important commodity in the world. At the French Broad River Academy we want our boys to realize this and understand why our particular water system in the Asheville area is so special and how it works. It's really a miracle that we can just turn on a faucet and expect clean water to gush forth.
Touring the North Fork water facility with RiverLink was
a vital component to this learning experience. The boys came away with a deeper understanding of how it all works and an appreciation for the work that goes into this unseen chapter that affects thousands of people in Western North Carolina. Plus, it was fun!"
-Lecky Haller, Social Studies Teacher at French Broad River Academy
Tours are available on Tuesdays throughout the winter and spring season for interested school groups. Please contact Nikki Bauman at education@riverlink.org to schedule a tour of the North Fork Water Treatment Plant.
Project Conserve Members Host First Peer Training for 2012-2013 Service Year

Project Conserve director, Amy Stout, address the Peer Training group during lunch
AmeriCorps Project Conserve members don't only do amazing work at their host sites. They are also required to plan and participate in a peer training event or service day for the whole Project Conserve group.
Each peer training planning group is made up four members from the Project Conserve cohort and these members come together to plan a day of fun and education. Our assistant volunteer coordinator Jess was part of the first 2012-2013 planning committee.
Artist: Virginia McKinney
The peer training focused on Appalachian acculturation. The group
participated in a guided tour of the
Folk Art Center
- learning about different types of Appalachian crafts made by different members of the
Southern Highland Craft Guild
.
Members also participated in two separate hikes along the Mountains to the Sea Trail, watched a documentary on Reconstruction-era Appalachia and held a pot luck. While hiking from the Folk Art Center to the
Blue Ridge
Parkway Visitor Center
, some of the Project Conserve cohort were lucky enough to see a small black bear along the trail.
Photo Credit: Keith Hoffman
The first peer training ended with a field trip to
Warren Wilson College
where the Project Conserve group learned about Appalachian music and dance with Warren Wilson instructor
Phil Jamison
. Jamison teaches math as well as music and flat-footing courses at the college.
Upcoming Events
Thursday, Dec. 6
at noon &

Thursday, Dec. 13

at noon &

5:30 p.m. at the RiverLink offices --
RiverLink hosts Friends of The French Broad River Paddle Trail introductory meetings to solicit volunteers for our various opportunities.
Thursday, Dec. 6, 4-7:00 p.m. at the Dr. Wesley Grant Sr. Southside Center, 285 Livingston Street --
Public meeting to discuss River Arts District Transportation Improvement Project, a plan to improve 2.2 miles of Lyman Street and Riverside Drive.
Saturday, Dec. 8,
1-11:00pm at River High Studios on Blannahassett Island Marshall, NC --
There's nothing like a good old fashioned fish fry on the river! RiverLink is teaming up with Hills To Holy Water for a winter party on Blannahassett Island. This is a way to celebrate the local catchers groups that promote a strong state and local economy!
Cost: $6adv./$8d.o.s. Bring 3 or more cans of food for a $2 discount on food and drink.
Food: Tickets for food and beer will be sold separately at the venue. $6 seafood boil bowls, beer and steamed oysters will be served at 1:00pm and continue while supplies last.
Wednesday, Dec. 12 at 10 a.m. and 5 p.m. at the RiverLink offices --
Volunteer orientation sessions. Contact Dave Russell at 252-8474, ext. 11 and become involved in the evolution of the river and learn more about RiverLink and join Jim Stokely to learn more about his mother, Wilma Dykeman.
Thursday, Dec. 13

6:30-8:30pm at Asheville Adeventure Rentals --
Gallery show featuring the work of local artist Maryanne Pappano.
Tuesday, Dec. 18
11:45-2:00pm --
The RiverLink bus tour meets at the Asheville Area Chamber of Commerce at 11:45 a.m. -- Come experience the Riverfront magic firsthand! Contact Jess at 252-8474, ext. 17 for more information.

Periwinkle
Scientific Name:
Vinca spp.
Appearance:

Slender trailing stems 1-2 m (3-6 feet) long but not growing more than 20-70 cm (8-30 inches) above ground; the stems frequently take root where they touch the ground, enabling the plant to spread widely. The
leaves
are opposite, simple broad lanceolate to ovate, 1-9 cm (0.25-3.5 inches) long and 0.5-6 cm (0.25-2.25 inches) broad; the are
evergreen
in four species but
deciduous
in the herbaceous
V. herbacea
, which dies back to the root system in winter.
The
flowers
, produced through most of the year, are salverform simple, 2.5-7 cm (1-3 inches) broad, with five usually violet (occasionally white) petals joined together at the base to form a tube.
Ecological Threat:
Found around old homesite plantings and scattered in open to dense canopied forests. Form mats and extensive infestations even under forest canopies by vines rooting at nodes, with viability of seeds yet to be reported.
Buy Instead:
Northern Maidenhair Fern
(Adiantum pedatum)
Southern Lady Fern (Athyrium aspleniodes)
Partridgeberry
(Mitchella repens)
Volunteer Spotlight:
The guys at French Broad River Academy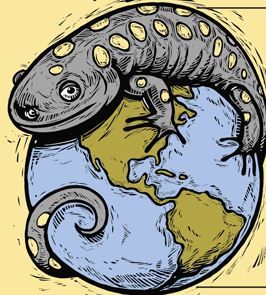 On Wednesday field lessons this time of year, FBRA students engage in a variety of service learning projects in the Asheville area. From removing invasive species with Riverlink, to stocking shelves at Manna Foodbank, to helping area eldery with leaf removal via the Council on Aging, FBRA boys are giving back in meaningful ways. Additionally, they are learning about issues such as native vs. non-native plant communities, hunger and poverty, and aging.
RiverLink has been happy to have the boys busy at St. Luke's Episcopal Church in Chunn's Cove, removing kudzu and other invasives. These projects help our community now, and ensure a new generation of river stewards for the French Broad River watershed.
Thank you,
French Broad River Academy!
River Geography
Into which body of water does the Rio Grande flow?
a) Caribbean Sea
b) Gulf of Mexico
c) Gulf of California
d) Pacific Ocean
Answer: Gulf of Mexico. According to the International Boundary and Water Commission, its total length was 1,896 miles (3,051 km) in the late 1980s, though course shifts occasionally result in length changes.
Into which body of water does the Rhine flow?
a) Atlantic
b) North Sea
c) English Channel
d) Baltic Sea
Answer: North Sea. Until 1932 the generally accepted length of the Rhine was 1,230 kilometres (764 miles). In 1932, however, the German encyclopedia Knaurs Lexikon stated the length as 1,320 kilometres (820 miles), presumably a typographical transposition error. The error was discovered in 2010, and the Dutch Rijkswaterstaat confirms the length as 1,232 kilometres (766 miles).
What sea is the final destination of the Volga?
a) Mediterranean
b) Baltic
c) Black
d) Caspian
Answer: Caspian. The Volga is the longest river in Europe; it is also Europe's largest river in terms of discharge and watershed. It flows through central Russia, and is widely viewed as the national river of Russia.
Where does the Ganges end its journey?
a) Indian Ocean
b) Arabian Sea
c) Bay of Bengal
d) Andaman Sea
Answer: Bay of Bengal. The Ganges was ranked among the five most polluted rivers of the world in 2007, with fecal coliform levels in the river near Varanasi more than one hundred times the official Indian government limits. Pollution threatens not only humans, but also more than 140 fish species, 90 amphibian species and the endangered Ganges river dolphin.
The Yenisei River flows into which ocean?
a) Artic
b) Atlantic
c) Pacific
d) Southern
Answer: Artic. The Yenisei is the largest river system flowing into the Arctic Ocean. It is the central of the three great Siberian rivers that flow into the Arctic Ocean (the other two being the Ob River and the Lena River).